FAIRWATER CEMETERY
Established 1849
Fairwater Cemetery is located in section 29 of the town of Metomen, the northern edge of the village,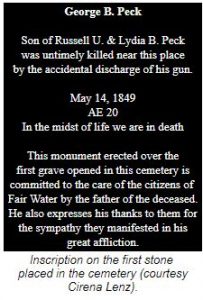 on County Highway E. It was established in 1849, on land platted to David Newland, as a resting place for George Peck, twenty-year-old victim of an accidental, self-inflicted gunshot wound.
The catalog has been developed from the card-based location system used by Arlene Erdman, the current caretaker, and is indexed both alphabetically and by row. Entries identify lot number and burial plot. Inscriptions have been recorded and transcribed by Kathleen and David Schuster and Pam (Schuster) Offerdahl.
The cemetery is laid out in lots measuring 25 feet wide and 8 feet deep, each accommodating 6 burial plots. Plot numbering runs from north to south within each lot. As illustrated on the right below, the lots were originally separated by aisles or alleys 8 feet wide and running east and west. In many cases, these aisles are now occupied by burial plots. The rows formed by the lots are spaced 4.5 feet apart.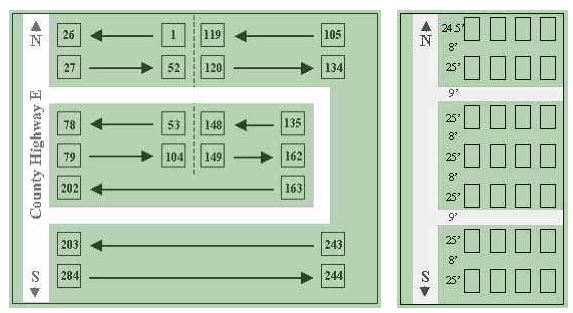 Lot numbers began at the north-south line (the dotted line in the diagram on the left above) bisecting George Peck's grave (Lot 52). With the need to expand the cemetery beyond the original 104 lots, a new section was created east of the original, and the entire cemetery also was extended to the south.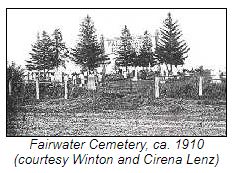 Over the years, the broad east-west aisles of the cemetery have been used to provide extensions for adjacent lots, holding up to two plots. Grave sites located in these alleys are identified as being in the "alley south" of the adjacent lot (AS#). The current configuration of 284 lots is shown in the diagram. Recently the cemetery has initiated another expansion to the north, identified as Block A.